The Making of a Quality Leather Sheath
What makes a quality sheath?
After dozens of years of custom knife use as well as over seven years of making custom sheaths I have some strong opinions as to what makes a high quality sheath.  I have spent countless hours reading, watching, and talking about making sheaths with high end custom makers and have varied my technique over the years and have come to a process that I think makes the very best sheath I can make for the money and application.  I am sure I will continue to tweak these processes slightly over time as I learn and try new things but there are some things that I think are a must for a high quality sheath. 
Proper Materials
A good sheath starts with the proper foundation, in this case, leather, glue, thread, and hardware.  There should only be one type of leather that should ever house your knife, and that is veg tanned leather. Chrome tanned leather is fine for some applications, but always retaining some of the salts from the tanning process can cause corrosion and damage to your high end knife. Because of this, I only use vegetable tanned leather from an American source. This is a labor intensive process that cannot be underestimated in the final product. The current tannery that I use rehydrates the leather (they come from the packing plant salted) for two days before hair removal and fleshing. The hide is then fully submerged in a blend of tree bark, including Mimosa and Quebracho, for weeks.  After this, the hide is placed in a massive wooden drum then dyed and conditioned with fat liquors before being dried and staked for up to another week.  The process is much more labor intensive, but results in the highest quality leather appropriate for this application. 
Modern sheaths are held together primarily through the glues used in assembly.  I use the highest quality contact cement I have found in an American based company. The key to good adhesion, beside surface prep, is to use multiple light coats of thinned cement where each coat is allowed to dry thoroughly. Again, this takes longer, but this process can produce a sheath that needs no stitching to stay together for years of use. 
Stitching a sheath not only adds strength and durability to a sheath, it also is perhaps the most noticeable detail in a sheath. Therefore, the thread used is highly important.  Traditionally, linen thread was used to assemble leather products and is fine for most applications. However, in recent years I have gone in a very different direction that I think produces excellent results. I use the highest quality polyester braided flat thread I can source.  This is imported from outside America due to its unparalleled quality and strength. Braided thread, although susceptible to abrasion damage, is very strong, UV resistant, and perfect for sheath making. 
The findings I use are American made wherever possible and made of the strongest materials possible for its applications.  For instance, my pocket clips are sourced from a small American manufacturer that uses stainless steel. Again, far more expensive than other sources, but are nearly indestructible and perfect for the sheath being requested by my customers. 
Assembly
The most popular way, by far, to stitch a sheath is by machine. This is not an inferior method but not what I chose for my highest quality sheaths. The major drawback to using a machine to stitch a sheath is that it uses a loop and hook method that if cut, can cause the entire sheath to unravel along its length. A method that does not allow for this unraveling is the double needle "saddle stitch". This method means that every hole put into the leather must be done by hand and each stich made one at a time and pulled tight with two hands.  Because each stitch passes by the other, if one stitch is cut – it will not unravel and will hold for years to come. Applying a flame quickly to the polyester thread will stop further fraying and damage.
My approach to what kind of stitch I put into my sheaths have changed over the years as well but I have settled on the more classical English style of angled stitch.  America has come to like a chunkier and fatter looking straight stitch.  I too used to use this style as well for a few years. However, after hundreds of sheaths, I feel what really makes a strong and longer lasting stitch lies in the use of the appropriate amount of threads per inch, coupled with the proper diameter of thread, and correct angle placed for each thread. The more traditional English style of stitching uses an angle for each stitch and prevents the zipper like tearing in the leather when the sheath is put to stress.  A straight stitch can cause the thread to link hole after hole until a catastrophic failure is produced.  This is particularly present in some sheaths that use a wide and straight lacing style hole coupled with a thread not meant for that application. When an appropriate amount of stitches per inch, coupled with the proper diameter thread, and hole angle, the stitch that resulted is nearly impervious to damage and provides a classic look for years to come.
Fit and finish
Once assembled, the sheath needs to be edged for a proper look and sealed to protect it.  The edges of the sheath are what separates a good looking sheath and a great looking sheath and I take it very seriously. I cut carefully, sand, bevel, polish, dye, burnish, and seal every edge on the sheath in a process that I have been working on for years. The result, I think, is a very firm and good looking edge that should hold up to the use and abuse expected from my customers. 
Each sheath is further finished with an all-natural American made sealing compound that helps condition the sheath, return any oils it may have lost, and protects the sheath against weather. Once fully cured a final inspection is made to make sure that each sheath looks its very best before shipment.
Conscience
The overarching thing that infects every step of my processes from material selection to fit and finish is to make something that I can be proud to put my makers mark on.  I maximize every portion of the hide that I can to make a high quality sheath, and use the rest for other applications (such as leather washers for hidden tang knives).  The largest material I use is made from a living animal, and I never forget that in my manufacturing process.  I use American producer's as much as possible and American suppliers where I cannot.  As a former Marine and American, this is equally as important as treating the hide with respect.  At the end of the day, I only work with or partner with only people that I would trust with my own knife, and thus perhaps, some day my life.  There are less expensive materials and faster ways to make a sheath.  I, however, cannot make a sheath with these materials or in these manners and sell them for the price that I do in good conscience.  At the end of the day, I chose these materials and methods carefully, in part, to produce a good product, but also to be consistent with what I think makes a good human.
Jason Moulenbelt, Diomedes Industries
You can see our Diomedes sheath collection here
1 Response
Leave a comment
Comments will be approved before showing up.
---
Also in News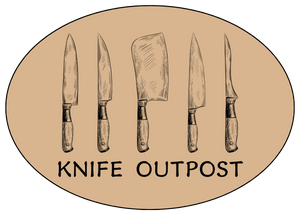 We've launched a brand new website for handmade knives!

KnifeOutpost.com

This particular site is new. But, we've been selling American, Handcrafted Knives for 7 years and counting! We've been working with Fiddleback Forge knives (and Fiddleback Family) since we started Fiddleback Outpost! But we want to help more small makers in America grow their small businesses, support their families, and bring more American-made products to our audience we've worked so hard to serve over the years.
We'll be able to offer something for everyone to improve their everyday carry, add to their kitchen cutlery collection, upgrade their outdoor tools, and put some WOW in their knife collections. Our knife makers not only make blades you'll love to use every day, but knives that can be passed down for generations.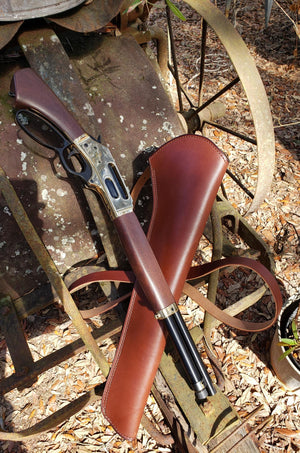 We have had countless customers reach out for an RLO Custom Leather Rifle Scabbard for the Henry Axe .410. This has been the case for a while, but with Henry releasing the new version with the brass receiver, we've seen renewed interest.
If you are a fan of AMC's Fear the Walking Dead, you may have seen one of our leather products on the show and not known it...

One of the main characters, John Dorie regularly carries a sweet lever action with one of our RLO Custom Leather No-Drill Harnessed Slings on it. You see, John was a bit of a sport shooter before the zombie apocalypse hit in TX. He was a regular on the cowboy shooting circuit, as well as being a law enforcement officer. And when you are a cowboy shooter, as well as a Texan, a lever action rifle is naturally a great choice. Lever action rifles are known for their reliability and smooth action. Not to mention, your rifle and your sidearm can use the same ammo if you buy right. That means alot when ammo is scarce and you're facing hordes of the undead...as well as ...