Robert shows how to install an RLO Custom Leather Shotgun Butt Stock Cover. Made in USA by American craftsmen at the RLO Custom Leather shop in Bronson, FL!
In the video, the shotgun used is a Winchester SXP in 12 gauge. However, since RLO makes a large variety of patterns for shotguns and rifles, the installation process is the same whether you have a Winchester, Remington, Stoeger, CZ, Benelli, Mossberg, or other shotgun model. This is assuming your shotgun has a straight comb stock and is in 12, 16, or 20 gauge. Since many .410 shotguns use a rifle stock, most of those are covered with the Rifle Butt Stock Covers offered by RLO Custom Leather at Fiddleback Outpost.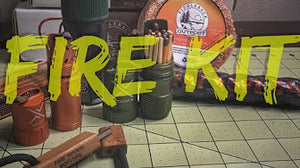 The Bearded Burton gave a thorough review of our "Build Your Own Fire Kit" on his YouTube Channel. He reviewed the Maxpedition organizer, the Fiddleback Outpost Fire Pucks, Fat Rope Stick, Exotac fireSLEEVE, Exotac titanLIGHT, Exotac MatchCap XL, Fire Water Survival's Pocket Firestarter with 1/4" ferro rod and striker, and our packaging. That's right, he even set our packaging on fire just to see if he could (spoiler: it burns).